Ah, Vegas! I just got back from my sixth visit and it never gets old. I've been there as a bachelorette, a pregnant mom-to-be, a birthday girl, a tagalong with my Dad and sister on work trips, and with my husband on work conferences. There's just something about everything the city has to offer – the bright lights, the fun, the vacation style, the food, the shopping… so many good things! I'll catch you up here on my latest visit, and also add in some of my definite musts if you're planning to get out there anytime soon!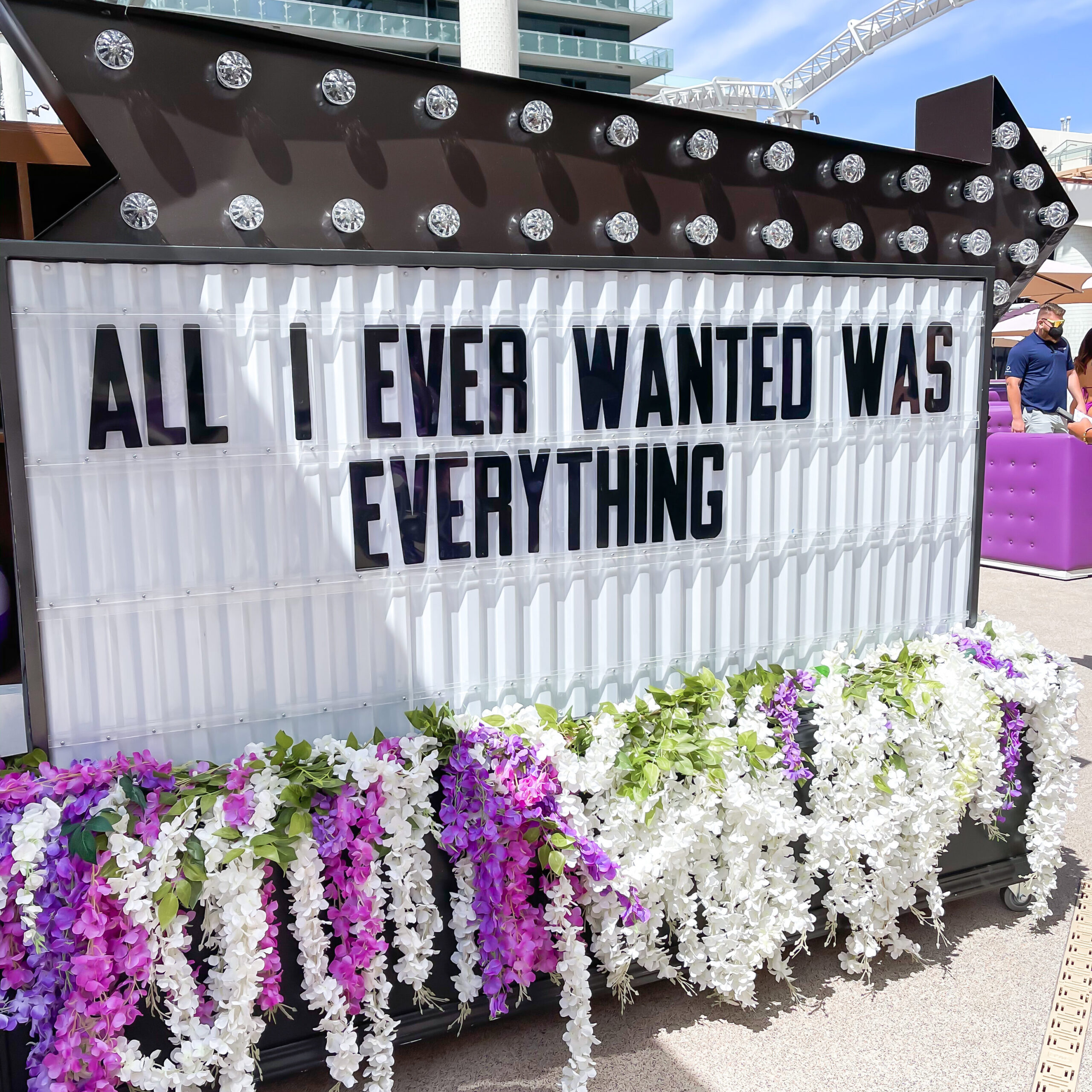 Getting There
Coming from Atlanta, flights are never usually too expensive, in fact you can usually find them rather cheap depending on what airline and what day of the week you're flying. We have been flying Southwest and our flights were under $200. In 2019 we went to a wedding in Idaho, and it was actually cheaper to fly to Vegas (hello, round 5) and then to Atlanta instead of booking a flight straight from Boise to Atlanta. As soon as you get off the the plane you're greeted by slot machines and the whole Vegas vibe. Most people just grab an Uber or Lyft from the airport, which is a quick 15-20 minute drive to the strip.
Where To Stay
This time around, we stayed at The Cosmopolitan. We also stayed here when we celebrated my 30th birthday. It is right in the middle of the strip and it is the only hotel in Vegas that has balconies. You absolutely cannot beat this view. Plus, you get to see the Bellagio fountains right in front of you! This whole hotel is gorgeous (check out the Chandelier Bar if you go, not that you could miss it) and my top pick for if you're celebrating and feel like splurging a little extra for one of these rooms!
If we aren't staying at Cosmo, my top pick (and first place I ever stayed in Vegas) is Encore. It is attached to the Wynn, but just a tad newer. Seriously the most beautiful hotel I've ever been in and both Wynn and Encore have some of the best restaurants in the city. Encore is located at the very end of the strip, however, so you do have to grab an Uber or put on your walking shoes if you want to get to the middle of everything.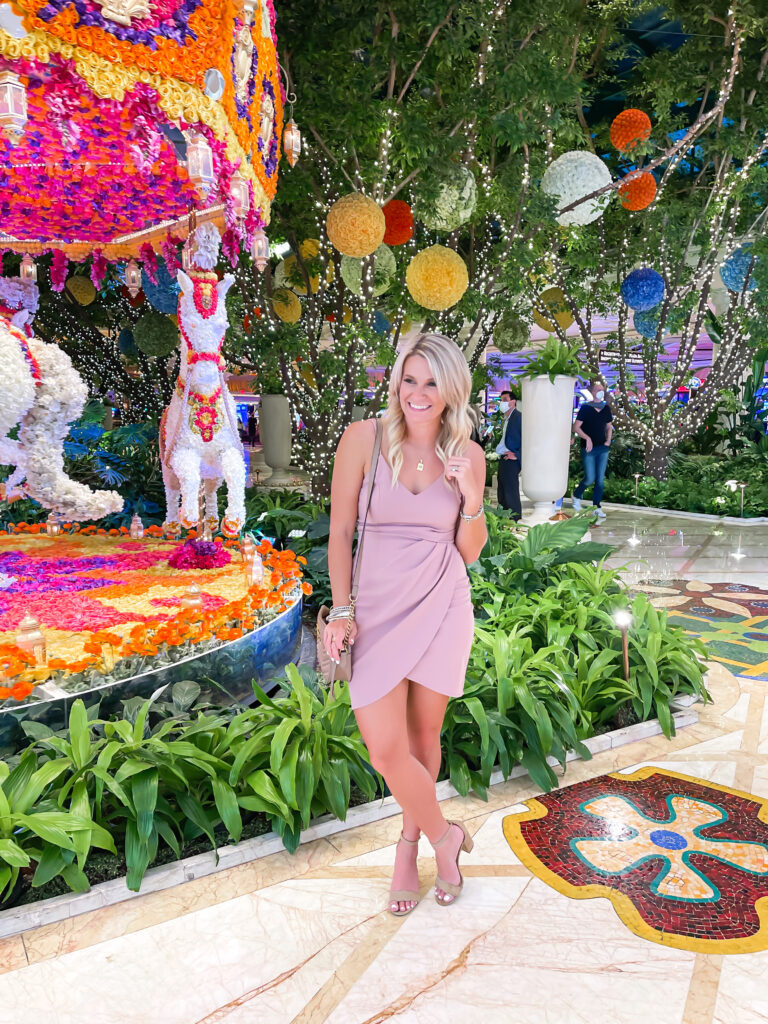 We have also stayed at Aria. It's located right next to Cosmo, so it's right in the middle of the strip. Also a super gorgeous hotel and I have nothing bad to say about it, it just was my least favorite out of the three places we have stayed.
Other hotel options where people we went with have stayed and I've heard great things about (and are fairly inexpensive):
Planet Hollywood
The Linq
Paris
Flamingo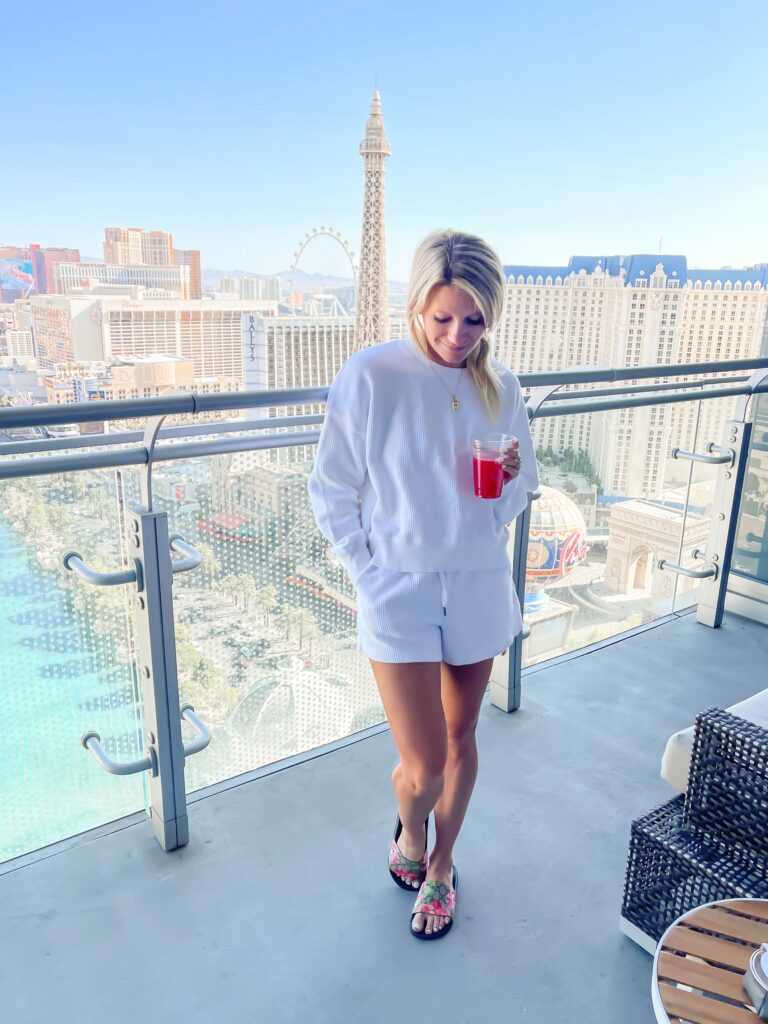 Restaurants (from this visit)
Mizumi – Hands down, one of the best meals I've ever eaten. Located in the Wynn, we ate sushi here our first night and I couldn't stop thinking about it for the rest of the trip!
Din Tai Fung – Located in Aria, Kevin and I ended up here one night when we didn't have reservations and they were able to squeeze us in. It is a dumpling house and everything (ok, all of the different types of dumplings) we had we delicious.
Javier's – This is my sister's favorite restaurant, so we eat here just about every time we go to Vegas. The best Mexican food and drinks, located in Aria.
Lavo – We went here for brunch and it did not disappoint. Located on the strip in the Palazzo. They have bottomless mimosas and bloody marys and also bottomless food! If you're making reservations, be sure to request outside for a fun atmosphere!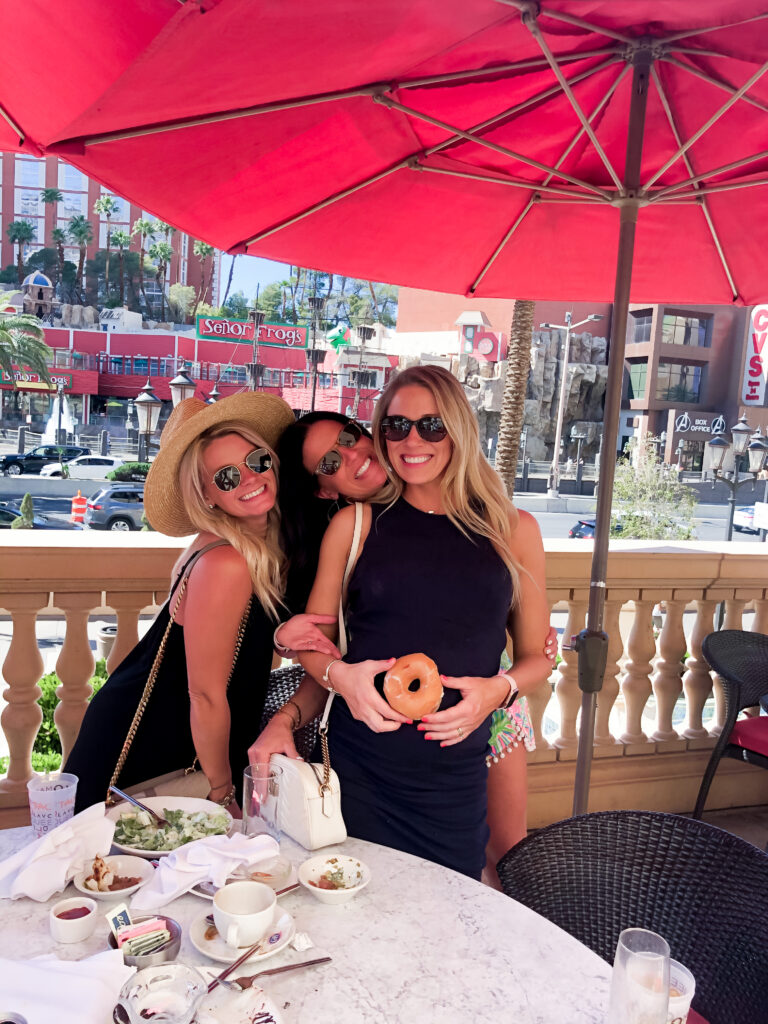 Other Restaurant Picks (that we've been to)
Catch – A BEAUTIFUL seafood restaurant located in Aria. They have other options if you're not a seafood fan. We ate here on our last trip and I would definitely go back!
Lakeside – Located in Wynn, just a great all around restaurant from food to drinks to atmosphere. Definitely put this one on your list.
Hexx – Another great brunch spot right on the strip with outdoor seating and bottomless mimosas.
Pools-
In Vegas there are pools, and then there are pool parties. The first time we went, we just so happened to stumble into a party when we thought we were just going to be lounging at the pool… best change of plans ever! If you're going to Vegas to celebrate anything, you MUST attend one of these! It's basically a night club (which is why they are known as day clubs), but at the pool and they start at 11AM. This time, we celebrated my sister's 40th birthday at Marquee, which is located in the Cosmopolitan. We did this one once before when we didn't have anything reserved and ended up posting up under a tree… so this time was much more enjoyable. If you have a big group going, the price of reserving a daybed or a cabana is totally worth it, and the price to have to pay to reserve anything ends up going towards your food and beverage minimum for the day.
Encore Beach Club – The BEST place I've ever been! This was where we went on out first visit and ended up going back for my 30th birthday. The prettiest pool, the vibe is incredible, and its just the most fun you'll ever have!
Marquee at Cosmo
Right now-
Vegas in a pandemic looks a bit different than normal, but rightfully so. Masks are required everywhere and they will spot you immediately if you aren't wearing one. In the picture below, you can see the plastic walls that were set up at gambling tables. You're still allowed to have a drink while you're playing, but you have to move it up and down between sips. When we went, they weren't allowed to seat parties more than 6 at a table at a time (and they don't budge), so if you have a party larger you'll need to book more than one table. This was all when we went in April, but I just recently read that they are hoping to open back up to 100% capacity by June 1.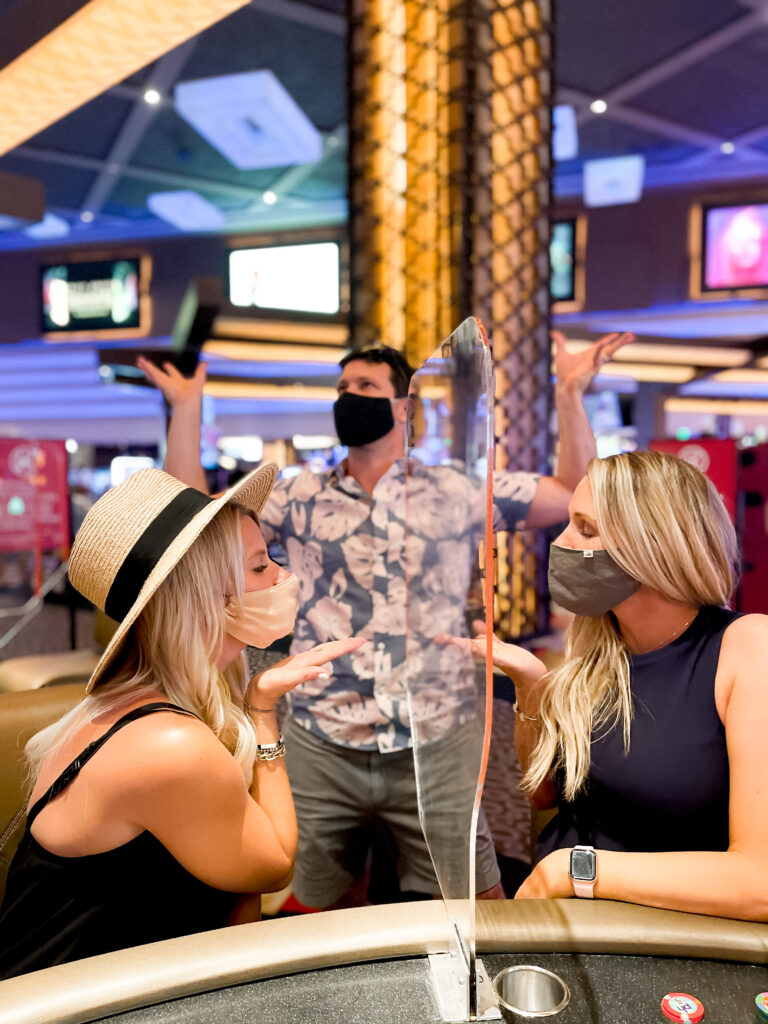 What else to do?
Old Las Vegas – definitely take a trip down to old Vegas and check it out! Casinos are a bit cheaper to gamble at than on the strip and there is just a different vibe. You can do the zipline here, and also check out Circa, the first "new" hotel and casino out this way!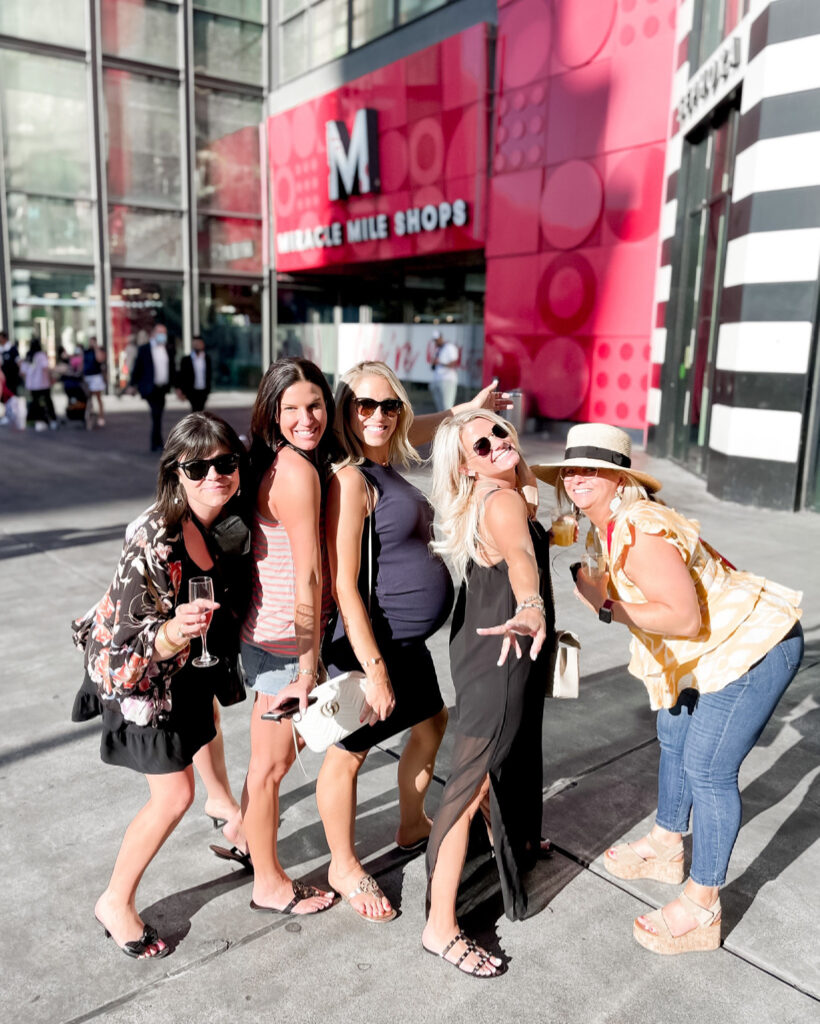 Seven Magic Mountains – I've been to Vegas twice with plans on getting here, but unfortunately my plans just didn't work out. About 20 minutes from the strip, these gorgeous rocks (what?) are just out in the middle of the desert and look so cool! Since I never made it out there, I just had to go ahead and photoshop myself into a picture with them.
Shows – you've probably noticed I haven't touched much on shows, and that because I could do without! Right now, though, there are none going on, but hopefully they'll pick up soon for those of you who love them! Only show I've ever wanted to see in Vegas was Aerosmith!
Planning a trip to Vegas? Have any questions? Happy to help you out in any way!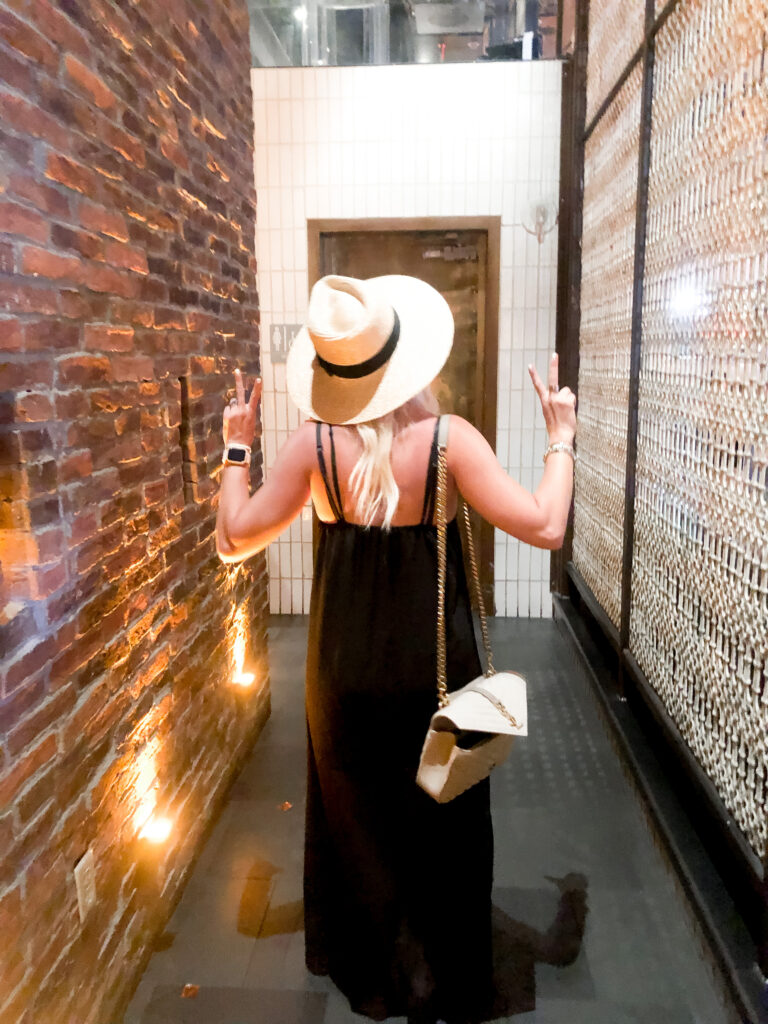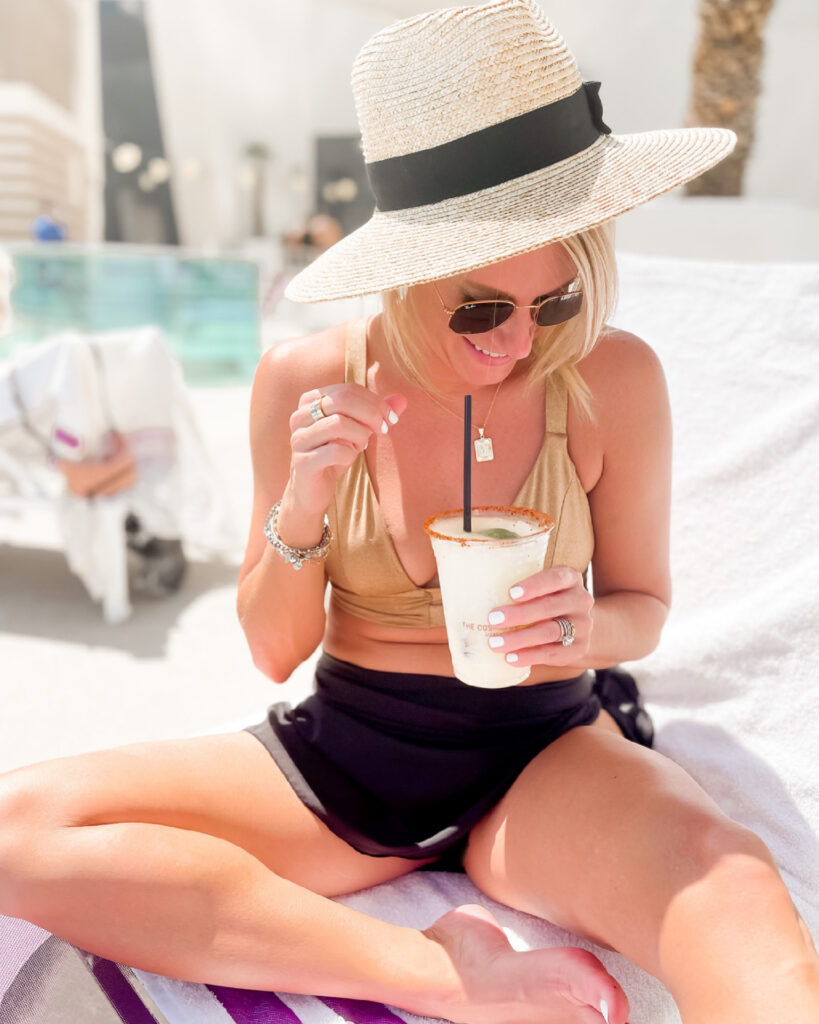 Shop my looks!