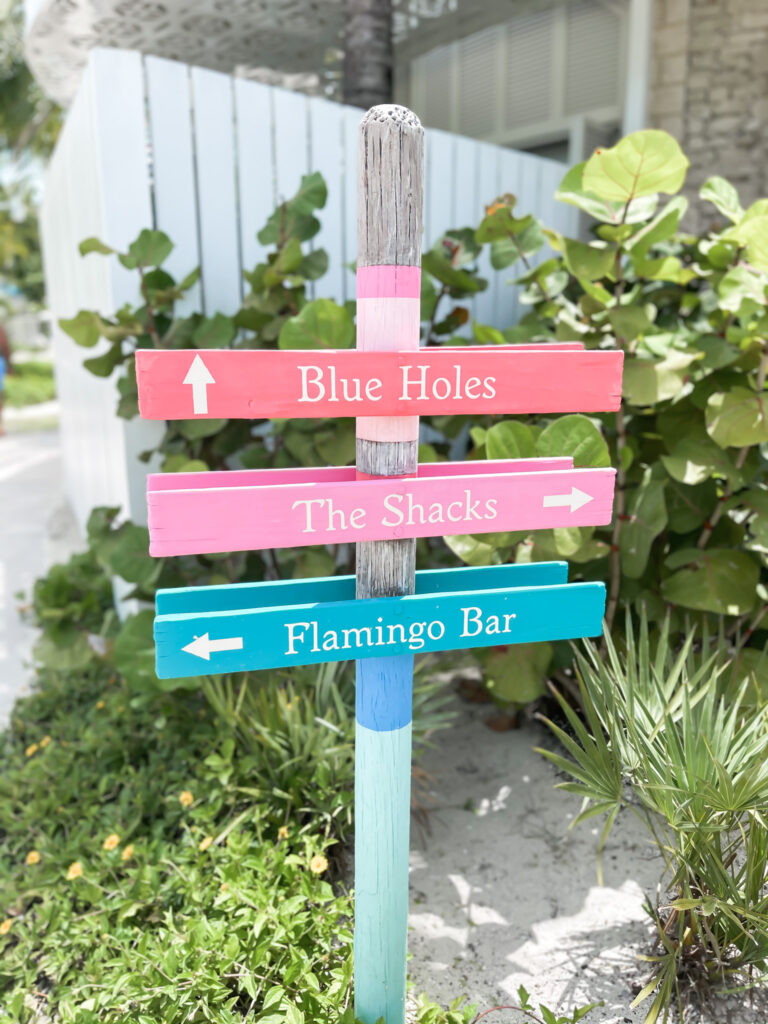 We originally had this exact trip planned for July of 2020 to celebrate my brother-in-law's 30th birthday… and that didn't happen. This year when we were vacation planning, I reminded Kevin that I still really wanted to check out this resort in the Bahamas – so that's what we decided to do. Only this time it wouldn't be an adults trip and we made the crazy decision to bring our boys along with us. While it wasn't as relaxing and we didn't get to take advantage of the casino or the new rooftop bar at our resort, I'm still glad the boys got to get out and travel us!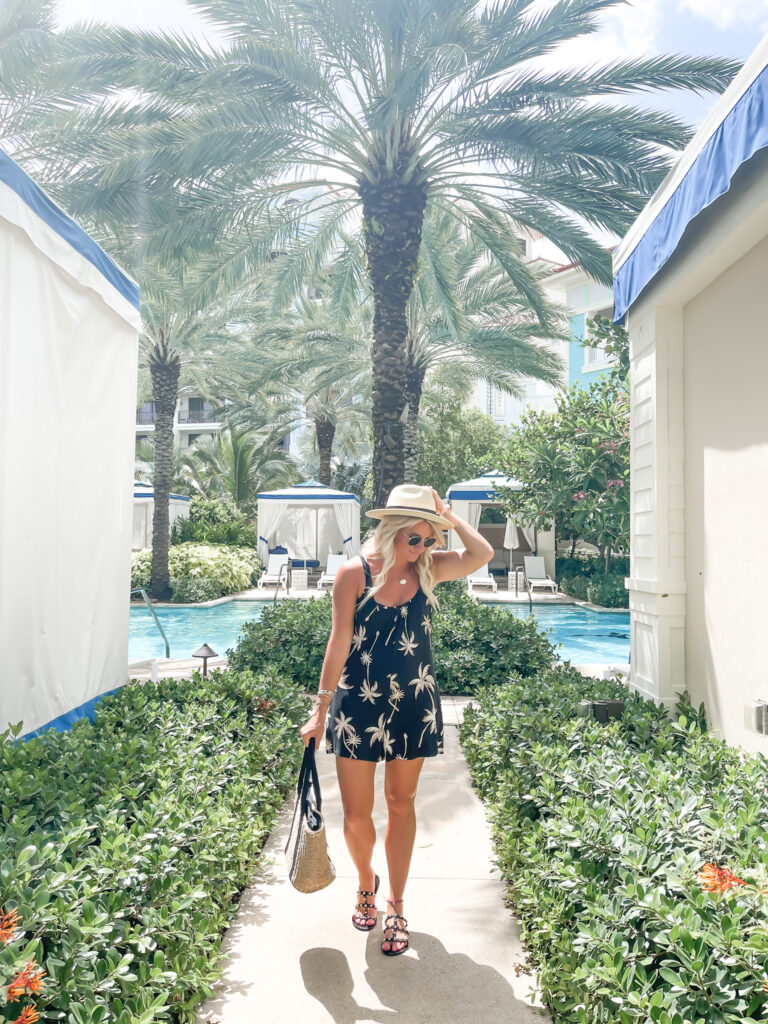 Atlanta to Nassau
Getting to Nassau was a quick and easy flight from Atlanta. In order to travel into the Bahamas these days, everyone has to apply for a Bahamas Health Visa beforehand ($40 for adults and $10 for children). It was a pretty simple process. If you're vaccinated, you have to upload your card to the visa, and if you aren't you have to upload your negative test results (with the test being done within 5 days of your departure). My advice: PRINT out everything you have and take the papers to the airport with you (Bahamas Health Visa, test results or vaccination card) and keep them with your passport. This way there is no confusion dealing with phones and it's easier for all employees at the airport. They will also check all of these documents when you go through customs in Nassau.
Upon arrival to the resort, you'll receive a Covid test if you aren't vaccinated and then again on day 5 of your stay if you are staying longer than 5 nights. In order to travel back into the US, everyone must get a test done whether you are vaccinated or not. Everything was super easy and all testing was done on site at the resort.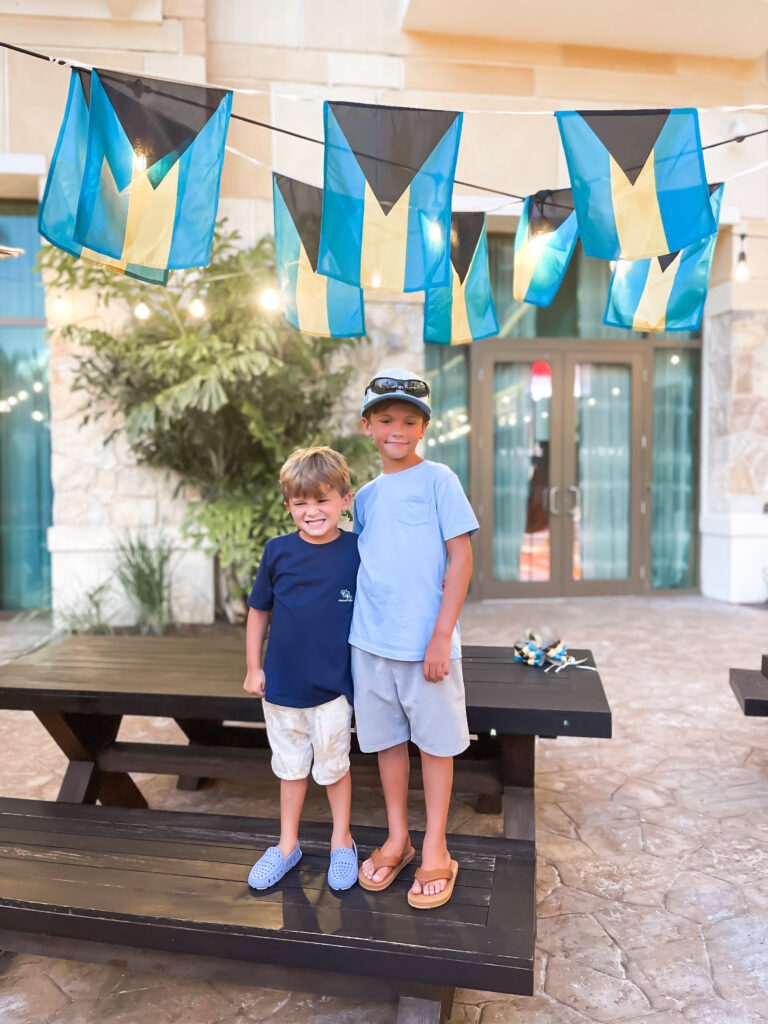 Where We Stayed – SLS Baha Mar
Baha Mar! Baha Mar is a newer resort in Nassau and it is home to three different hotel groups: SLS, Grand Hyatt and Rosewood. It was less than 15 minutes from the airport, which I absolutely loved. Atlantis is about 30-40 minutes further. While they are separate hotels, they are all connected from the inside by restaurants, shops and the casino. No matter which hotel you choose, you have access to everything on the Baha Mar property except for a few spots that are for Rosewood guests only.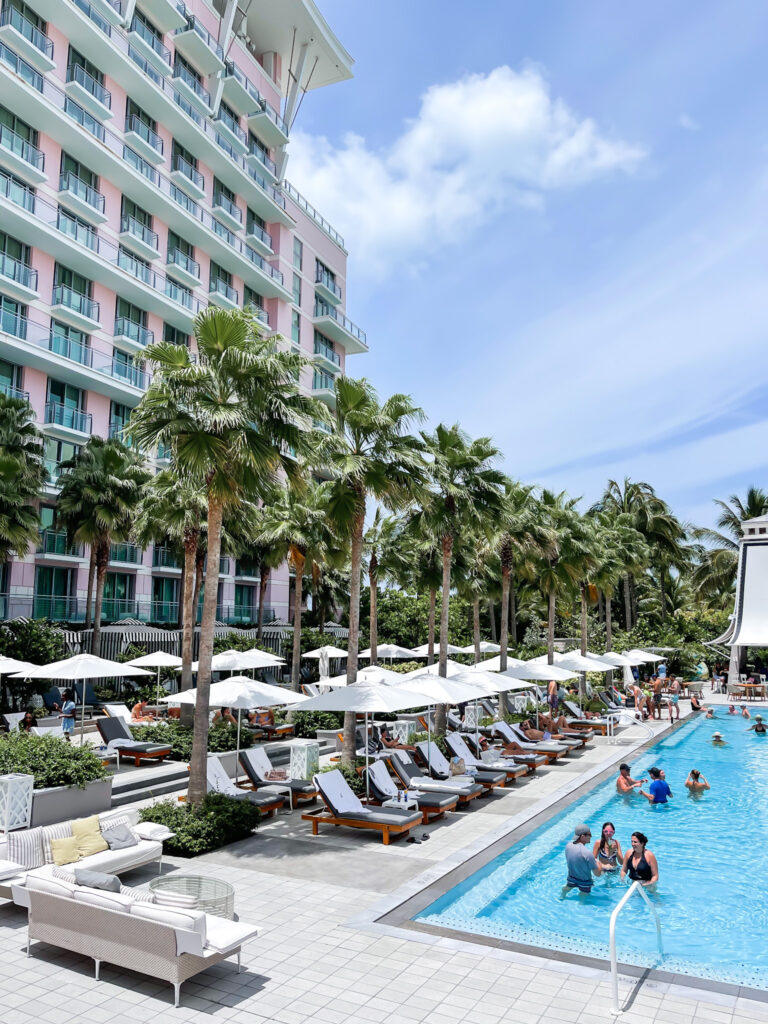 We went back and forth between the SLS and Grand Hyatt because their prices were extremely similar (Rosewood is much more $$$), but ultimately it was the pink hotel that won me over… the SLS. The hotel was gorgeous and the view from our room (Ocean View Signature Suite) was perfect. The Grand Hyatt is much larger than the SLS and I got the feeling that if we had stayed there that our view wouldn't have been as great.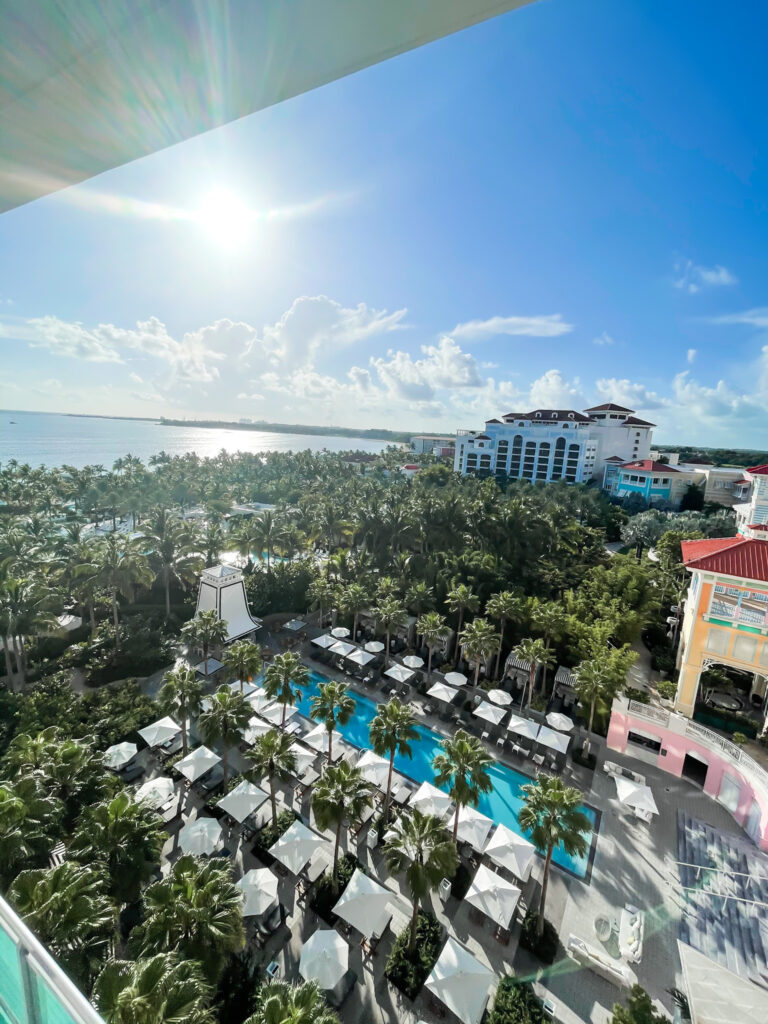 where we ate
I'll start this by saying that if you are planning on taking a trip here, MAKE RESERVATIONS as far in advance as you can! I made reservation for two restaurants a few weeks before we left, not really knowing what we would want to do for dinners with the boys and I wish I would have made reservations for every night just in case. Lesson learned. The one night we really wanted to go somewhere to eat, the earliest we could get in that evening was 9:30PM.
There are several food trucks and light dining options around the property, but all of these places closed at 6:00, which was usually right around the time that we were just getting ready for dinner.
The three restaurants we ate at Katsuya (definitely recommend), Sugar Factory (100% not worth it and not great, only went here because we thought the kids would think it was cool), and Pizza Lab (which was pretty dang good) We actually ended up ordering a pizza to go from there again on our last night (plus, they have ranch!). The one place we REALLY wanted to eat at but couldn't get in was Marcus, their new fish + chop house. We did sneak over there after dinner one night for a cocktail and we both agreed it was the best one we had during our stay.
As far as the food trucks and lunch spots, they really were so great! We had poke bowls at Da' Poke Shack, tacos and nachos from El Jefe, ice cream at Scoops and hot chicken at Streetbird. Oh, and I can't forget about the daiquiris at Daqs.
what we did + Baha bay & the exumas
Our flight got in early enough to put on our swimsuits and enjoy the property the day we got there. We did a full walk through and ended up at Dean's Blue Hole (a pool) where you can jump off a cliff (from two different heights). Colton must have done it 100 times. This pool is also connected to The Sanctuary on the property so you can swim over and see all of the fish swimming in the aquarium next to you. It was super neat!
On our first full day, we decided to spend all of our hours at the brand new waterpark, Baha Bay. As of right now, it is only open to resort guests but I believe that will change before too long. Entrance to the park is free. It was SO FUN! We decided to reserve a daybed that overlooked the ocean so that we knew we would have somewhere to post up and leave all of our belongings. Inside the park was the only place where the price of cabana or daybed rentals was just a food/beverage minimum for the day.
The park has activities for all ages, toddler to adult. I personally enjoyed the lazy river the most! There are also shops, bars, and restaurants as well as another casino which looked amazing! We actually ended up going back into Baha Bay once each day because it was too fun to stay away from and the kids loved it!
After spending the day at the water park, our next few days were filled with just checking out all of the other pools throughout the resort and of course hitting up the beach. There are plenty of pools and other things to check out so there was never a dull moment. Both the SLS and Grand Hyatt have adult only pools, so those were the only ones we didn't get in a swim at. If you're looking for a swim up bar, you can find one on the property at the main pool at the Grand Hyatt.
On our last full day, we booked an excursion through Powerboat Adventures to head to the Exumas. This is something I have always wanted to do so I knew this was something we had to book! We had a shuttle pick us up at our hotel and it was a 20 minute drive to where our boat was and then once we were on the boat it was an hour long ride until we reached the island we went to. Now, this ride was an hour because we were going FAST. I won't lie, I was a bit out of my comfort zone going that fast in the middle of the ocean while holding on to Parker for dear life. We also got splashed quite a bit and at one point I got salt water in my eyes (while wearing sunglasses) and couldn't see for a solid 10 – 15 minutes. Was the Exumas experience worth this? 100%. Would I do the speedboat option again? I can't decide. Definitely not with my children in tow. However, both boys loved the boat ride, it was apparently just me fearing for our lives!
The powerboat company has their own private island that we went to (so, part of me still wants to go back to the Exumas one day and stay on a bigger island) and it was absolutely gorgeous. We got to feed pigs and stingrays and watch sharks get lunch, too. Colton's favorite part of the whole trip was watching the sharks all day long from up above. They fed us an island lunch and there was an open bar the whole time we were there (which was about four hours). After the sharks were fed and swam away, the brave people (not me) got to snorkel and catch conch. While the boat ride wasn't my favorite, this day as a whole was absolutely beautiful and the most memorable. *there are other options when taking a day trip from Nassau, we looked into a sea plane but the price for just the four of us wasn't worth it.
take away tips
Not an all-inclusive resort, so keep this in mind if that is something you're used to when traveling. Something they don't really advertise is that you can buy cups for the kids for $17 each that can be used the whole time you are there for free refills. We didn't know this until halfway through our trip!
Because of the water park opening, I heard several people saying that there are a lot more families with kids staying there now, so keep this in mind if you're looking for an adults-only vacation.
Our kids had a blast, and I'm happy with the decision to take them to Baha Mar instead of Atlantis (nothing against Atlantis!).
If you're planning a trip to Baha Mar, I hope you found this helpful. As always, feel free to reach out with any questions you might have. Happy to help if I can!