When we moved into our house, I knew one change that I wanted to make was brightening up the living room just a little bit. The living room is directly off of our kitchen and the first place your eye goes when you walk in from the garage. The previous owners had the fireplace painted blue (randomly, they had the fireplace matching the half bathroom) and it just wasn't really what I wanted to have to look at all of the time! Our realtor also owned a business doing home renovations, (more about this friend and her business to come in a different post) so we quickly got to work on the changes we wanted made. The windows bring in so much natural light and I couldn't be happier about that. This room is one of my favorites in the whole house, so I decided I would share it with you first!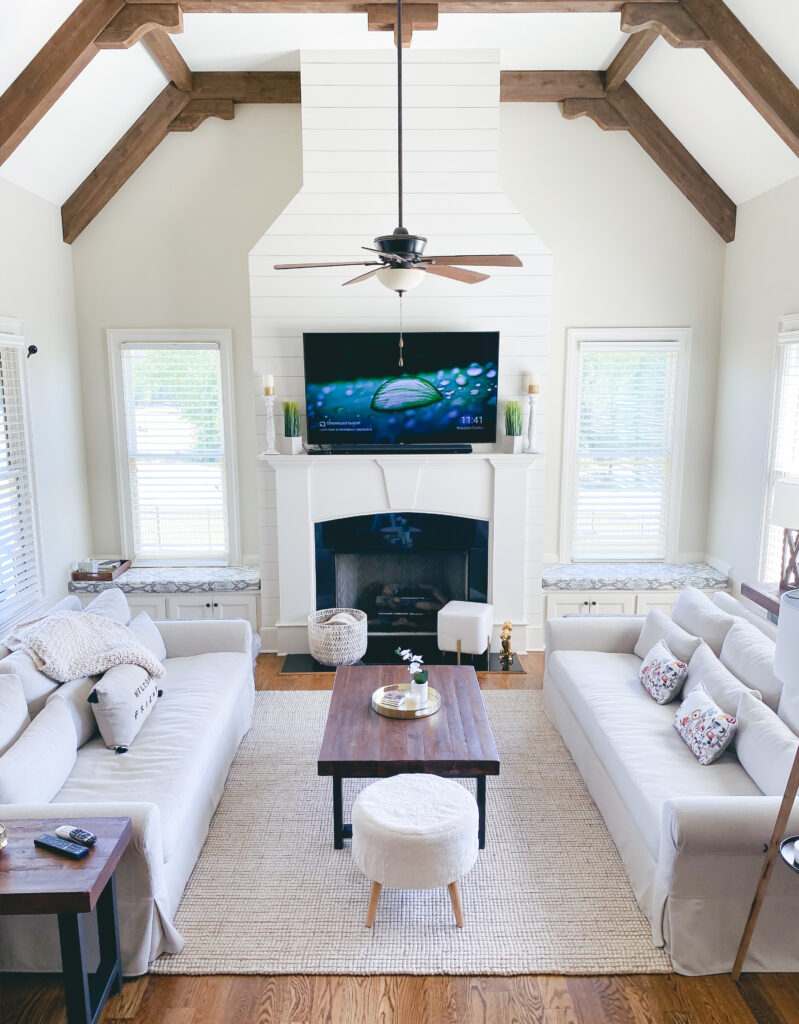 Since this room is right off the kitchen, I knew I didn't want to lose any space when it came to furniture placement and I did't want to even attempt to separate the spaces, so that's when I came up with the idea of the identical couches facing each other. We set them up with enough room to walk behind the one, and enough room for a sofa table to go behind the other (it is up against a wall). We wondered if we would be bothered by not having a piece of furniture directly facing the television, but it hasn't really been an issue. Since we have two small boys (and light couches!) I decided to keep two Anywhere Chairs from Pottery Barn in here. Want to know what is neat about those? We keep them in this room and you can't see them when you walk into the room. They are both in the picture above and you can't see them when the boys aren't using them! [These are the regular size Anywhere Chairs, linked below].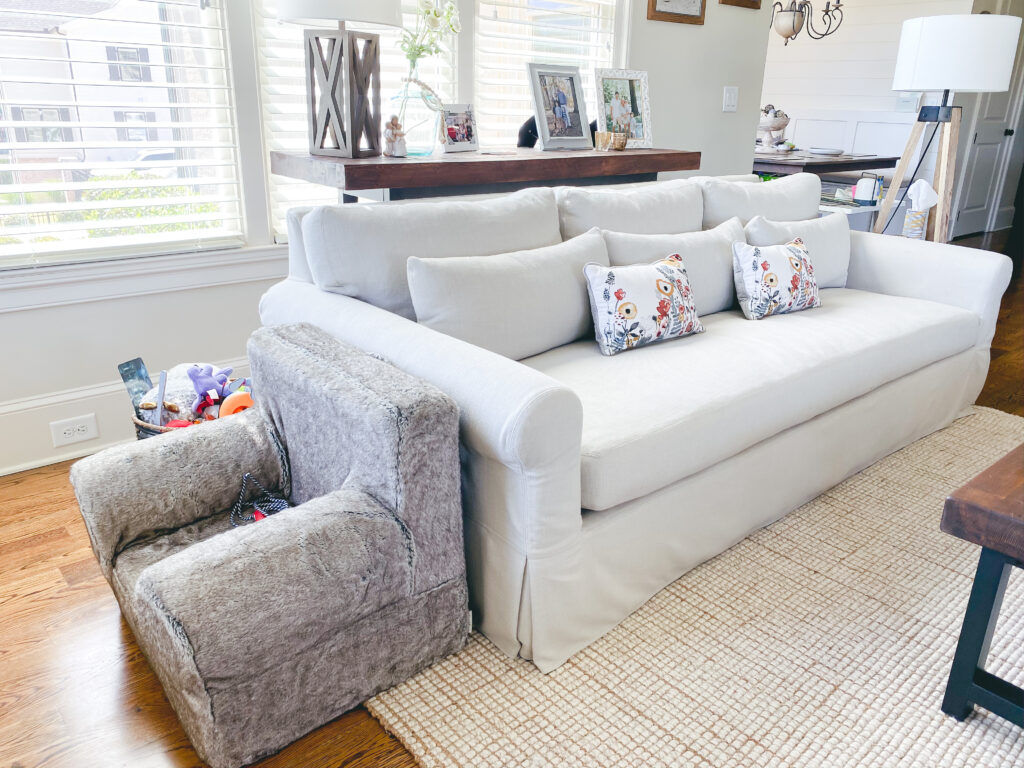 So as you can see, the blue didn't stay. We went with shiplap all the way up to the ceiling and painted it the same color as the trim that was already in the house. One of the things we loved about this house was how the builder used these wooden beams. I went with these coffee/side/sofa tables because I felt like they really tied into the beams. They are also great tables in this area because they are darker and they have a rustic finish which means they don't really show anything! Mom win. As far as the couches, they are slipcovered so they can be washed, thankfully. But, the fabric has been amazing when something gets spilled – I spilled a little bit of red wine on an arm one evening and just a went paper towel and blotting took it right up!
Need new furniture? Want a budget hack? Get a part time job at Pottery Barn (or Williams Sonoma or West Elm…)! Before we moved back to Atlanta, I worked at the Pottery Barn Kids that was right by my house in Birmingham. I wouldn't say I MADE any money, but I sure did make our house a lot prettier! But to be honest, I LOVED working there! You'll see more of what came from that job when I share my son's bedrooms… and the rest of my house. Don't talk to my husband about it.
Decor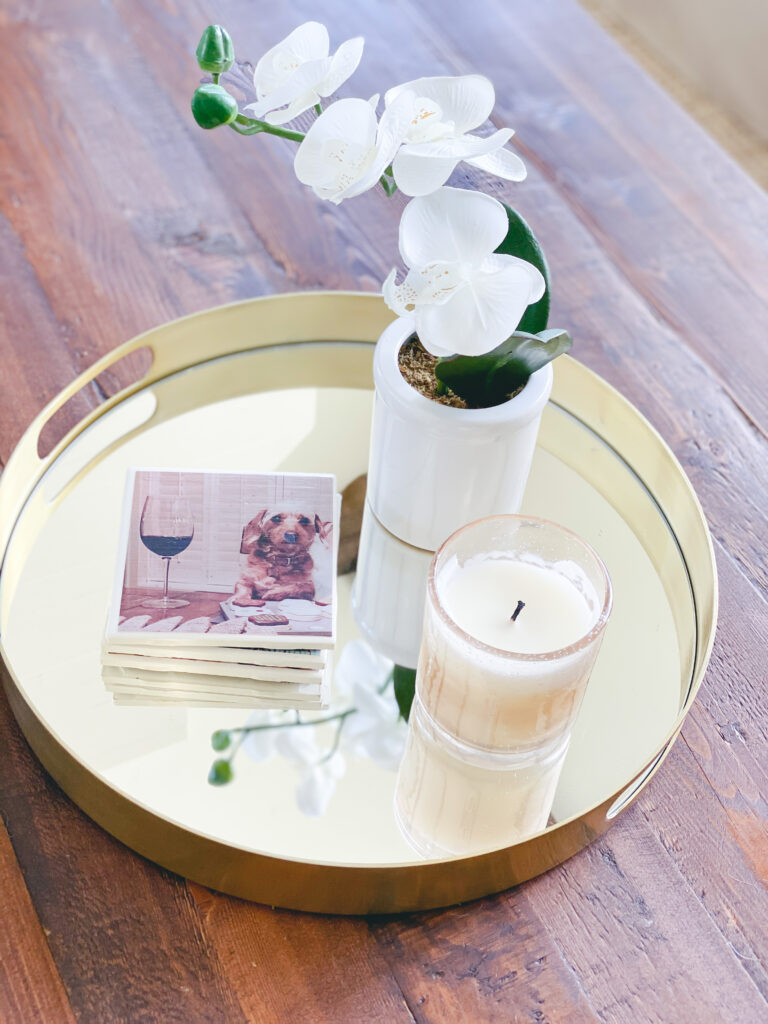 I love this living space of ours, but I have to say that I love it most at Christmas time! I'll leave you with this picture and all of it's holiday magic!