Florida's Forgotten Coast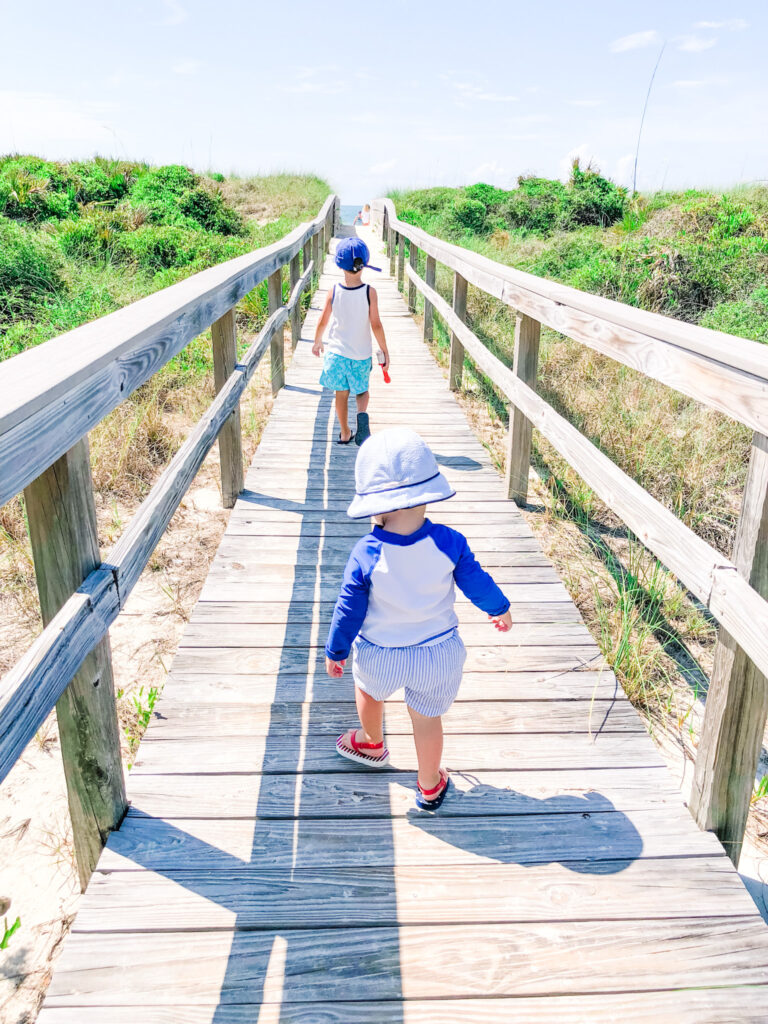 St. George Island has been our family's home away from home for the last six years. It's a beautiful, quiet island in Franklin County, Florida, nestled in between Tallahassee and Panama City. The island is slow-paced with just a handful of restaurants, local groceries and shops, and zero high rise condos or hotels. You won't find a Wal-Mart or Walgreens anywhere on (or within 30 minutes) of the island. The beaches and sunsets are gorgeous and not crowded. One of the main reasons that St. George became our home away from home: the beaches are dog friendly!
Apalachicola is the town next to the island that is worth a visit – our go to spot for a boat ride to lunch or dinner. It's a vintage little town most known for their seafood, especially oysters. Apalachicola is also where you'll find the closest hospital, pharmacy, and big grocery store.
WHAT YOU WANT TO KNOW
With only a couple hotels on the island, you're more likely to find a rental that will work for you. Airbnb & VRBO both have plenty of properties to choose from.
When packing for your vacation to St. George, don't worry about packing your fancy clothes! I can't tell you the amount of times I've packed my favorite wedges but ended up going for my flip flops instead. The island is just that laid back! So unless you're going there to celebrate an occasion, don't worry about being underdressed anywhere on the island!
Looking to go out for a night on the town? You'll find the most fun at Harry A's! Most of the other bars/restaurants close around 10, and that is when everyone heads over to Harry's. Locals, too!
Beach Rentals – there are plenty of rentals you can take advantage of on the island – kayaks, bikes, golf carts, surf board, etc. St. George is the perfect spot to try this sort of thing out!
St. George Island Trading Co. – looking to get your hermit crab and airbrushed t-shirt? Here's your place. They've got all of your beach needs, along with a pretty great selection of clothes/beach wear. Attached to the store is our family's favorite ice cream shop!
Snap some cute pictures in front of and at the top of the St. George Lighthouse. Not far from the lighthouse are a row of the most instagrammable colorful houses, a little hidden gem on the island!
Grab all your groceries at either the Island Grocery or the Piggly Wiggly Express. Both places have great deli counters if you're looking to make some beach sandwiches (these are a must for us)!
WHERE YOU WANT TO GO
Food
Blue Parrot OceanFront Cafe -The only restaurant on the water. They have a big tiki bar that sits right off of the beach! This is where I like to go when I'm in the mood for crab legs.
Harry A's – I love sitting outside here. They do a lot of live music and karaoke. This is also where you'll find the best nightlife!
Paddy's Raw Bar – Laid back, open air restaurant and bar.
BJ's Pizza & Subs (and Island Sushi) – The pizza is GOOD! We like to save this place to order to-go when we don't want to leave the house but we also don't want to cook. There's a sushi place connected to it that actually has great, fresh sushi.
Doc Myers' Island Pub & Sports Bar – The whole place is one giant tiki bar! Completely open air with yard games scattered around the outside. A great place to go when the weather is just perfect!
Beach Pit – Open all day, but a good place to go if you're looking to go out for breakfast!
Weber's Little Donut Shop – Seriously, the best donuts. Don't miss out on grabbing some of these, but make sure you go early!
The Food Truck SGI – this food truck is usually set up somewhere near the lighthouse. Check out their social media pages for their daily specials
Doug's Seafood – My husband's favorite – Doug's is a mobile trailer that sells incredible fresh seafood! He's usually over by the lighthouse, too.
Aunt Ebby's Ice Cream – a cute little spot to go get ice cream after dinner!
Patio at Harry A's.

Apalachicola
Shops
Island Outfitters – Rentals, bait, and tackle. They will hook you up!
Island Dog Beach and Surf Shop – T-shirts, beachwear, gifts & toys, rentals, and craft beer.
Eastpoint
Red Pirate Family Grill & Oyster Bar – This is the only place you'll find miniature golf (and a handful of arcade games). You'll have to cross back over the bridge from the island and you'll find it right there in Eastpoint.
Apalachicola
The Owl Cafe – Probably the most upscale meal you'll find around. Upstairs is a white tablecloth restaurant with delicious comfort food.
Up The Creek Raw Bar – You can dock the boat here and enjoy the restaurant on the water with great food!
Apalachicola Ice Company – Apalachicola's newest live music venue. Ice cold beer, draft beers, cheap wine and a luscious beer garden to enjoy.
Oyster City Brewing Company – Go enjoy the taproom here and try the local drafts.
Have you been to St. George Island? If you're planning a trip and you have any questions, feel free to comment or send an email. I'd love to help out!